Whether it be a simple brochure site or a highly functioning
e-commerce website that sell your products online, Pumpkin can help you understand what you need, and how to bring your ideas to life.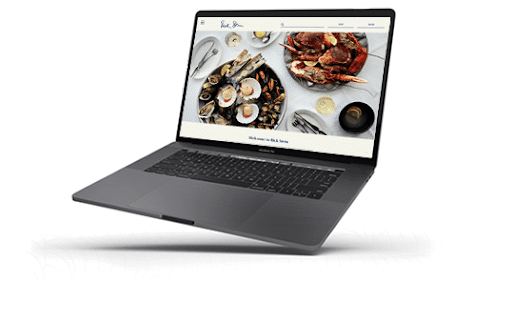 A good website will attract regular visitors; a great website will convert them to clients. We'll advise you how to make sure your SEC is on point and your site is fully engaging. Contact us to book a call to find out if we can help.
What our clients say about us
"Thanks for all the work on the new website. My team report the best executed, most straight forward and well-supported launch of a new website they have experienced and I this is our number 4!"
Martin Ingram, Managing Director, Josef Seibel UK ltd
"Its definitely been value for money. Everyone has commented on how easy the website is, how clean it is. They have all said its so easy to navigate. Even our fishermen, some who are in their 50s and 60s and 70s, they book their fishing through the website now because its easy for them."
Jennifer Burgess, Burton Springs Holidays.
"An excellent service, highly professional and also very reasonably priced. Pumpkin got involved with my business venture opening a Yoga studio, and has managed everything from designing and setting up my website, Facebook page, designing my logo and branding and so much more. Very pleased I chose Pumpkin Digital Marketing."
Laura Whitaker, Yoga Junkie.
Our monthly website support package
Once your website is built we won't leave you in the lurch.
Your business will evolve. Your website should evolve with you.
As part of our monthly support package we will partner with you to ensure:

Your website is secure and is maintained with the latest updates and plugins.

All the websites we build are easy to update. We can train you how to do this, or we can do this for you.

That you can track the traffic coming to your website.

That you can relax knowing you can contact us if there is ever an issue with your website.

Your websites is hosted on servers powered by 100% renewable energy.
For more information about our support packages, please contact us today

Our aim is to make sure your customers have the best experience with your website, and keep coming back and recommend you to friends and familiy. We do this by solving their problems – the solutions to which could be as simple as improving the look and feel of the site or as complex as creating a custom voucher system that allows them to use your vouchers online as well as your physical establishments.
We have considerable expertise in creating solutions for Physical and Digital Products using WordPress (Woocommerce), Shopify and BigCommerce.
Read our case study on how we helped Rick Stein create a new online shopping experience
""Pumpkin's knowledge and expertise has helped us create a thriving and effective e- commerce platform. The teamwork has been outstanding and  we have developed a really strong partnership with Pumpkin, which we hope to build on in the future""
Sarah Collins, Rick Stein,
Driving traffic to your website
Make your website work for you. It's not there just waiting to be seen,
use it to find the type of clients you want to work with.
We can help accompllish this by using the following methods:

We can help you maximise your site's organic search potential with a bespoke HO strategy that will deliver a return on your investment.
This includes an in depth look at your competitors, what words you should be using to describe your service and whether
there are any issues preventing your site's ranking. This means that you won't waste time creating the wrong kind of content.
"The money we've saved by driving traffic to our own website and
booking through our website rather than a third party booking system I have already recovered the cost of the new website."
Jennifer Burgess, Burton Springs Holidays.
Google & Facebook marketing
From Rick Stein, to Joseph Siebe1,100 Wardour Street, Quaglinos and all our SME's, our renowned Google & Facebook campaigns do what it's meant to – get your brand noticed, bump up your mailing list, send traffic to your site and ultimately bring you a return on your investment.
""Pumpkin have been working with us since we launched our transactional website, Josefseibelandfriends.co.uk back at the beginning of 2011. Having managed our SEO and PPC campaigns ever since, Pumpkin have provided expert advice as we expanded our sites first to Europe and then across the World. In that time our online turnover has quadrupled!""
Martin Ingram, Managing Director, Josef Seibel UK ltd
Give us a call and we can advise you on the things you need to think about when it comes to your website and digital marketing